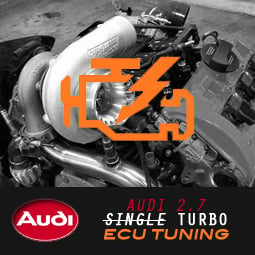 $

500.00 - On Sale
PROJECTB5 - AUDI 2.7 STK ECU TUNING
*ALL 2.7 Vehicles are supported, S4, ALLROAD, A6, RS4
PB5 is your single turbo specialist & we offer custom ECU mapping for any/all STK cars be it mild or wild.
SPECIFICS
-Included in the cost of the tune is custom code such as SECONDARY O2-EGT-SAI-EVAP deletes / Launch Control / Anti-Lag / NLS
-Bosch/Hitachi/HPX Maf sensors are supported.
*Turn around time is generally 2-3 business days from the date we receive your ECU -OR- we can setup a time for REMOTE TUNING if you have a windows laptop/wifi/vag cable by downloading the Teamview program.
*Upon check out, we will be contacting you with your TUNE-SPECIFICS (ie: supporting mods, injector size, ID of MAF housing, etc) as well as shipment info.
!FREE SHIPPING 48/USA!